craw cyber security ethical hacking reviews
Abhishek Bhardwaj
The Sessions are short, crisp and to the point. Even a noobie ( myself ) can learn basic techniques and information about System and Web security easily. The course created by the craw Team is plotted really beautifully which includes all the basics and step by step approached to advance. The faculty is amazing with their teaching skills and simultaneously they have experience in Company Sector too which is major plus point. I personally would recommend to join the courses over here during the vacations or holidays, total worth.

2. lakshaya bawa
My experience with CRAW security was awesome. All the instructors are very knowledgeable and experienced. Classes are to the point and very easy to understand. They clear all the doubts very well. If you are thinking about craw then I say go for it

3. Ramansh Sharma
My experience at CRAW security was marvelous. They really have good and experienced teachers and faculty members are very supportive. Being a student at CRAW security is like having a safe and secure career journey. I am glad that i did my internship at CRAW security.

4. aniket singh
I just Completed My Diploma in Craw Cyber Security. I Learned a Lot About Networking And Cyber Security. I Feel Lucky That I am a Part of It And The Credit Goes To Craw Security Teachers. These Guys Give Me a Great Direction Towards Cyber Security Field. Seriously They have a Great Amazing Teaching Skills.
5. Ashutosh Sharma
Hands-on experience of cyber security, with an affable and demonstrative environment, craw security has proven itself to be one of India's top digital security consultants. Every minute spent here is productive and their focus on pragmatic approach knows no bounds. One of the best experiences I've had at an institute of education.

6. Sonu Kumar
This is a Very good Institute , and All Teachers are very well. And also their behaviour are very well for all Students.
If there is any problems, they are always ready to help their Students.
According to me, everyone should take admission in a similar Institution.

7. Parvez Waheed
CEH module was well taught by Pankaj Sir. His patience n understanding is marked out given the fact that we were new to the subject of Ethical Hacking. Only minus side to me was the quality of sound of the lectures

8. Ashutosh Sharma
excellent works form trainers. They taught us everything in detail with good examples. Learning environment is pretty good. Guidance is provided at each and every step. Every module is taken by professional teachers with good amount of experience.

9. Mohneesh Kumar
Best place for learning related to I.T and other Courses also and the Faculty manisha mam way of talking and Knowledge Excellent and I would like to highly Recommended to every one

10. Mukesh Jakhmola
The course which they provide its very good and helpful to make a carrier in security platform, being a professional guy I thought it's perfect medium to learn nd gain best for growth prospect, one more thing the representative gives very good presentation or explanation about the courses the way she deliver it's very professional and polite. Thanks to Manisha and appreciate her work

11. Schn Mandhan
Hey. The experince was exellent. The way of talking is very good. I understand all things from teacher side.

12. Reetik Rajan
The environment and the faculties is so supportive towards learning. We can use the high-end resources that we can't afford normally, this automatically raise the bar of learning. Must recommend that if you're interested in security. 😇

13 . Adarsh PATHAK
My first visit to CRAW was somehow surprising and with full of excitement to see the lab and meet the trainers and start my career in cyber security. The trainers are and the modules are so helpful in learning and growing yourself in the industry. I would recommend all of you to give it a shot and explore your inner talent in cyber security and many fields.

14. Renu Sharma
This cyber class in very inserted and well teaching. I like this class and enjoy this class.every day I learn for new inserting information and useful Than overall this cyber class is useful and enjoyed. Thank you

15. Himanshu Negi
I have enroll for CEH course in CRAW Security My experience till now is excellent, they have experience and expert trainers for CEH and more courses. Counselors also very expert and supportive, If you face any difficulty during the training period they will manage that according to our requirements.

16. Atul Kumar
This place is really cool! Craw security Ltd is very good institute to learn security courses.Excellent facilities and trainers.I enrolled for CEH course and certification. and talking about counsellor Miss Manisha she communicate very well and polite way , she help me alots , she is best counselor

17. Harsh
I completed my C|EHv10 course under Rishabh sir I am currently doing CCNA course from this institute. The teaching staff is very experienced. Along with classes I also received good study materials. All my queries were solved immediately. I was new to cyber security field Rishabh sir guided me well. I highly recommend to join craw.

18. ANURADHA
It is the place where the trainers are supportive and the staff were also helping us specially Manisha I'm the one who got an opportunity to stand and represent myself in this place.

19. SUNIL KUMAR
Hello my self jatin sharma and Best institute for Python in depth knowledge of each concept. The Trainer Mr. Sunil sir is very patient and responds to all the queries with great patience. Great work & i will continue with other courses at Craw security and i had fruitful experience craw security..and specially thanks for Rishika Ma'am …

20. silvy banswal
I liked this place a lot specially the environment. Everything is just perfect and so helpful. The co workers are also nice and helpful.

21. Pankaj
Hi everyone,
I am Pankaj and I am Pershing DIS from craw security.the is faculty is very good.always help to students while studies and also after studies.I am satisfied with all the trainers.

22. amit raj
This is Amit raj , from Gujarat . i was complete beginner in this cyber security domain but when i joined craw security i got excellent experience of learning ethical hacking with joy. and i wanna to mention @Mohit yadav sir , @Himanshu sir and whole craw team for this knowledge and guidance. At the end I am proud to say i am from Craw cybersecurity

23. Jitendra Yadav
Thanx craw security for place in best company and one thanx for manisha mam

24. Abhishek Chaudhary
I learned python and networking from there and really it was very good experience. Thanks to @ laxmikant sir for being such a trainer who let me help in securing my courier . And thanks rishika maam for assisting me during training period

25. Prateek Gujral
It's a wonderful place to study cyber security here. And I really liked their way of teaching. Limited students per batch with practical approach and mentorship. It's totally worth of money and time spending here. Craw is a best institute with good staff. Rachit sir (CEH, CHFI, Advance P. T.) sir have good knowledge. Jatin sir & Rajat sir (CEH) in good knowledge. Laxmi sir (Networking) in good knowledge.

26. Chanchal Bhardwaj
Thanks craw security ……Cyber forensics couse ke liye Rachit sir ne bht ache se concept ko clear kia thanks Rishika mam for supporting for batches and good communication

27 . Rider Ghiror
Great hub ! Learnt a lot from the course (cyber security) and a great stepping stone in the right direction for my new career path. I learnt some really useful information, and will continue with the specialization.Really interesting, I learned a lot of things in this course, and my mentor (Ankit Rai) is very clear and pleasant to listen. There is always an practical explanation behind each theoretical talk, and it's great. Thank you so much.

28. laxmi bai
they deal with real life scenario thts the best part of the craw security . thanks @himanshu sir for wonderful training and thanks to craw sec

29. vishal sharma
Faculty of craw security is very good support team is actually very supportive and jatin sir is very helpful and his teaching technique are great.

30. Chetna Bansal
Hey I am chetna from Delhi. And I am very thankful for craw cyber security. I have no idea about cyber security but after joining craw I have full knowledge about cyber security and I am thanks for babli mam to guiding me for diploma course thanks a lot.

31. Prashant Kumar
Best institute for Learning and thanx for manisha mam to Suggest Craw Security

32. Jiggy Jig's
I like the environment in Craw Cyber Security, the teaching way of trainers is very good. Special Thanks to LaxmiKantha Sir for Networking Training and Manisha Mam for their Support. Highly Recommend Company for Cyber Security Training.
33. Kapil Sharma
I am kapil sharma from Delhi. And I am very thankful for craw cyber security. And thanks to Babli mam to guide me what is best course for the better carrier. Thank you so much

34. muskan singh
Craw cyber security Institute very good. Excellent facility and trainers

35. Saurav Raj
Thanks craw security for helping me to grow in my security career.All the service of craw is soo good.And also the all member are soo good.thanks alot☺️☺️☺️☺️

36. Aman Pratap Bind
This is the best institute in whole Delhi… My CEH trainer was Miss Salonee Jaiswal… She is the best Trainer in whole Craw Security and She is very cooperative with her batch… I highly recommend Craw Security…

37. ZEHERツsunny
Very supportive, experienced and skillful Teachers. Friendly environment. In total a very good institute for cyber security field.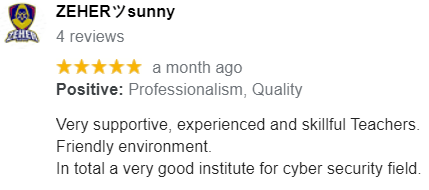 38. sharik khan
Hey, i am sharik khan and i am happy to read in craw cyber security. all the trainers are very good and helpful to learn and clear my all doubts. Babli mam is my councellor and she is very good and updated me all new things. thanks for craw

39. Pahalwaan Jiii
Being a student at Craw Security was amazing experience for me. In those 6 months I learnt more than my 3 year graduation.

40. Shailendra Singh
I have completed by cyber security diploma course from Craw and believe me this course has given me promotion that too during covid time. All the teaching faculty are having real time experience. There is no other place where such good experience teachers are available at such affordable price and with such versatility. I have seen may student are passed through craw and working very well in many companies.
So that why I would suggest everyone to blinding join CRAW institute and experience the wonderfull knowledge growth.

41. Sujal Raj
Thanks for each and every thing you have provided . Thanks a lot see you in future for more learning

42. Vicky Singh
All quality is good i am satisfied with training of CEH By Rachit sir

43. Yadnesh Shimpi
Best experience of Ethical hacking. Quality knowledge and upto the mark concepts.

44. Kritika Sharma
I did ethical hacking training from craw security.I had great experience there .Trainers were very professional and supportive especially Abhishek Raj. Rishika mam was very helpful and nice. 👍👍

45. Asimkhan Mahorvani
I have enrolled for 6 month diploma course in information security at craw security. I am attending online classes yet the experience has been really good. My subject(CEH) faculty Himanshu Saraswat Sir is very friendly and knowledgeable. We can easily discuss our doubts to sir. Our class strength is not high and sir focuses on each and every student. Sales department group of craw security is really nice. Rishika Mam of sales department always helps and takes feedback from the student on given lectures resulting in nurturing and helpful environment for students.

46. Rishabh Kumar
Hey, this is rishabh kumar. I studied in craw cyber security and all the trainers are very good and helpful and the councilor Babli singh is also very helpful to solve all the problems. Thank you so much

47. Amit Sharma
Goodnoon I amit sharma from Haryana. Thank you Babli mam for guidance me for diploma course. And thanks to craw cyber security for making my career. And the trainer Abhishek is very good and helpful
48. Witee stars
Craw is a nice institute with good staff and receptionist is pretty nice, Laxmi (Networking) He have good knowledge in Networking.

49. Virendra Yadav
My experience with CRAW security was pretty good, The teaching faculty along with coordinator are great 👍 specially "Mr.Pankaj Yadav" is very helping with full of energy and devotion. All my query were answered very well.Thanks for your all support & guidance .your expertise in teaching has put our mind at ease.All the best .

50. Ritam Kar
Awesome experience. Wonderful teachers. Explained the topics in a very easy and understandable way during my training. Thank you Craw Security!