Navigating the Best Ethical Hacking Course in Delhi, India – 2023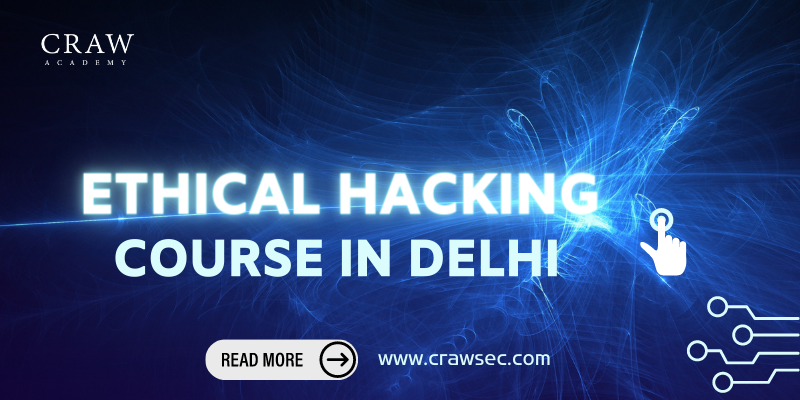 Introduction to the Ethical Hacking Course in Delhi
In the contemporary digital landscape, our reliance on technology has skyrocketed. Effective cybersecurity is urgently needed in light of the concerning rise in cyber threats that has coincided with this growing dependence. Ethical hacking, a niche but growing segment of this cybersecurity movement, has emerged as a robust response to these threats. But what exactly is ethical hacking? Why is there such a burgeoning demand for professionals trained in this discipline? This guide seeks to illuminate the realm of ethical hacking, emphasizing its pivotal role in today's digital domain and directing you towards the best ethical hacking course in Delhi.
Understanding Ethical Hacking
At its core, ethical hacking can be understood as the practice of probing systems for vulnerabilities. This is done to preemptively identify and rectify weak points, ensuring malicious hackers can't exploit them. While this might sound akin to what black-hat hackers do, there's a fundamental difference: intent and permission.
Ethical hackers, also known as "white-hat" hackers, work with full legal permission. Their primary aim is to secure systems, not exploit them. They operate under strict guidelines, ensuring that their actions are always within the realms of legality and morality. Their work finds relevance across a multitude of sectors, from banking and healthcare to retail and e-commerce.
Benefits of Taking an Ethical Hacking Course in Delhi
Being knowledgeable about ethical hacking is not only beneficial but also necessary in a world where cyber risks are everywhere. Here are some reasons why you should consider diving into this field:
Lucrative Career Avenues: The digital age has seen an exponential rise in cyber threats. Consequently, the demand for trained ethical hackers is soaring. As more companies recognize the importance of robust cybersecurity, professionals equipped with ethical hacking skills find themselves highly sought after, commanding impressive salaries and benefits.
Skill Enhancement: For those already in the IT sector, an ethical hacking certification can immensely bolster one's skill set. It adds a specialized layer of knowledge, distinguishing you from your peers.
Contribution to a Safer Digital World: Beyond the personal benefits, ethical hacking allows you to contribute positively to the digital ecosystem. By securing systems and networks, you're directly playing a part in creating a safer online environment for everyone.
Factors to Consider When Choosing an Ethical Hacking Course in Delhi
Selecting the right ethical hacking course can be a daunting task, given the myriad options available. To simplify the process, consider the following factors:
Course Content and Curriculum: A well-rounded course should delve deep into various hacking techniques. Look for courses that provide comprehensive coverage of areas like penetration testing, network security, and vulnerability assessment. The curriculum should ideally balance theory with hands-on practical experience.
Trainer Expertise: A course is only as good as its instructors. Prioritize institutions that boast seasoned professionals—those who've been in the trenches and have real-world hacking experience. Guest lectures by prominent figures in cybersecurity can further enrich the learning experience.
Accreditation and Recognition: Not all courses are created equal. Accredited courses, like those offering CEH or CompTIA Security+ certification, are often more rigorous and in line with industry standards. Such courses are also more widely recognized and can significantly enhance your professional credibility.
Reviews and Feedback: In the age of the internet, a course's reputation is often a click away. Peruse online forums, student testimonials, and review sites. Past students' experiences can offer invaluable insights into the course's quality and effectiveness.
Practical Exposure: Theoretical knowledge, while essential, is only one side of the coin. Ethical hacking is a hands-on discipline. A worthwhile course should offer ample practical opportunities—be it labs, real-world simulations, or internships.
Flexibility and Learning Options: Everyone's learning style and commitments vary. Some might prefer the structure of classroom learning, while others could lean towards online formats. Ensure the course caters to your needs, especially if you're a working professional.
Top Ethical Hacking Courses in Delhi
Delhi, a nexus of education and technology, is home to numerous esteemed institutions offering courses in ethical hacking. While enumerating them all would be exhaustive, it's essential to focus on a few key elements when researching:
Course Duration and Structure: Does the course offer a quick overview or an in-depth exploration? The duration often gives a hint. Comprehensive courses might stretch over several weeks or even months, ensuring a thorough grasp of the subject.
Unique Offerings: Some institutions might offer unique value propositions, such as job placement assistance, industry collaborations, or advanced modules on emerging threats.
Pedagogical Techniques: A good course isn't just about content; it's also about delivery. Look for courses that employ diverse teaching methods, from lectures and discussions to case studies and hands-on projects.
Cost Considerations
Investing in education is invariably a wise decision. However, it's crucial to ensure that the returns—both in terms of knowledge and career prospects—justify the investment. While it might be tempting to gravitate towards cheaper courses, remember that quality education often comes at a price. Balance the course's cost against its offerings, reputation, and potential career benefits. Additionally, many institutes might offer financial aid, scholarships, or flexible payment plans, making quality education more accessible.
Preparing for the Course
While most ethical hacking courses are designed to be beginner-friendly, having a foundational understanding of IT, networking, and basic cybersecurity can be advantageous. Familiarity with these domains can enhance comprehension and make the learning curve smoother. If you're a complete novice, consider online resources, workshops, or short courses to build a foundational knowledge base before delving into ethical hacking.
Building a Career in Ethical Hacking Course in Delhi
Upon course completion, a plethora of career opportunities beckon. From roles in multinational corporations to positions in niche cybersecurity firms, the options are vast. Job titles might vary, ranging from penetration testers and security analysts to vulnerability assessors and compliance auditors. While the initial certification is a significant step, remember that the world of cybersecurity is dynamic. Continuous learning, networking, and further certifications are essential to staying relevant and advancing in the field.
Conclusion
The digital realm, replete with its conveniences, is also fraught with threats. Ethical hackers stand as the vanguard against these threats, ensuring a safer digital environment for all. If this domain intrigues you, there's no better time to dive in. With the right course, especially in a tech hub like Delhi, you're on the path to a rewarding career in ethical hacking at Craw Security. As you embark on this journey, remember that it's not just about personal gains; it's also about creating a safer digital world for everyone.
Frequently Asked Questions (FAQs) for the Best Ethical Hacking Course in Delhi
What makes this course the best in Delhi for ethical hacking?
This course is recognized for its comprehensive curriculum, experienced instructors, hands-on training approach, and strong industry connections, making it a top choice in Delhi.
Who should enroll in this ethical hacking course?
The course is ideal for IT professionals, system administrators, network engineers, and anyone with a keen interest in cybersecurity and ethical hacking.
Are there any prerequisites for joining the course?
A basic understanding of computer systems and networks is recommended. Some familiarity with programming can be beneficial, but it is not mandatory.
How is the course content delivered?
The course combines online lectures, interactive sessions, lab exercises, and real-world case studies, ensuring a balanced approach between theory and practical application.
What topics are covered in the course?
Key topics include network security, system vulnerabilities, penetration testing, malware analysis, ethical hacking tools and techniques, and legal compliance.
Is there a certification awarded at the end of the course?
Yes, successful completion of the course leads to a certification that is well-recognized in the IT and cybersecurity industries.
How long does the course take to complete?
The duration varies, but most comprehensive courses last between 4 and 6 months, depending on the intensity and depth of the curriculum.
Can this course lead to a career in cybersecurity?
Absolutely. The course is designed to equip you with the skills necessary for various roles in cybersecurity, including ethical hacker, security analyst, and network security administrator.
What is the mode of instruction?
Instruction is primarily online, which allows flexibility for students, including those who are working or residing outside Delhi.
Are there any hands-on projects or real-world simulations?
Yes, the course includes practical projects and simulations to provide real-world experience and to better prepare students for professional challenges.
How much does the course cost?
Costs vary depending on the institution and the depth of the course. It's advisable to check the latest fees on the course provider's website.
How do I enroll in the course?
You can enroll by visiting the official website of the course provider, where you'll find application forms and details on the enrollment process.
Is post-course support provided?
Most reputable courses offer post-course support, including guidance for career development, access to alumni networks, and updates on the latest in ethical hacking and cybersecurity.