Crawsec
>
CND Training
>
Certified Network Defender Training (CND): Master the Art of Becoming a Cyber Sentinel
Certified Network Defender Training (CND): Master the Art of Becoming a Cyber Sentinel
September 3, 2023

Posted by:

Pawan Panwar

Category:

CND Training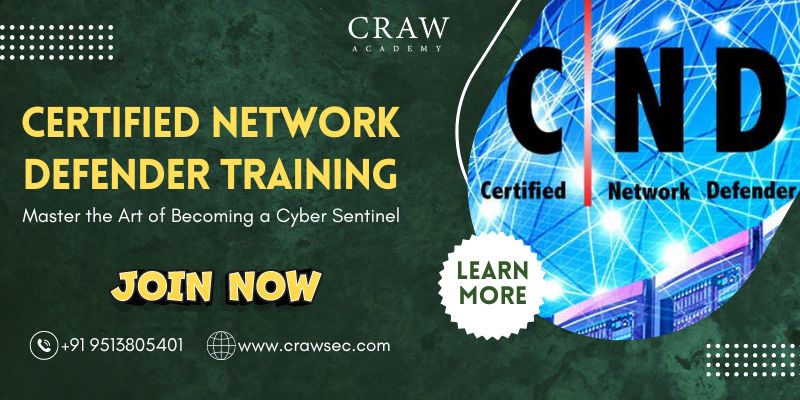 Master the Art of Becoming a Cyber Sentinel with Certified Network Defender (CND) Training
Unlock Your Potential with Certified Network Defender Training
Embark on a journey into the ever-evolving world of cybersecurity. As threats to digital landscapes escalate, the need for skilled Cyber Sentinels rises. And what better way to ascend the ladder than with a Certified Network Defender (CND) training?
Why Choose CND Training?
The vast realm of the internet is fraught with vulnerabilities. But do you know what's even more alarming? The lack of trained professionals to shield these vulnerabilities. That's where CND training comes in.
What is CND Training?
At its core, CND is about equipping you with the tools and tactics to defend networks against threats. Think of it as training to become a digital knight, guarding the virtual realm.
Importance of Network Defense
Imagine leaving your front door open in a busy city. Sounds careless, right? In the digital world, an unprotected network is that open door. Every day, cyberattacks cause billions in damages, making network defense crucial.
Difference between CND and Other Cybersecurity Certifications
While there are numerous cybersecurity certifications out there, CND stands out. It's like comparing a Swiss Army knife to a regular blade; it's versatile, updated, and designed for real-world challenges.
Understanding Cybersecurity Fundamentals
Before we dive deep, let's brush up on the basics. The world of cybersecurity is as vast as the universe, and understanding its fundamentals is like knowing the laws of physics before launching a rocket.
The Evolution of Cybersecurity
From mere password protections in the early days to advanced biometric security, cybersecurity has come a long way. Remember when a simple firewall felt like a fortress?
Cybersecurity Pillars
Much like a tripod, cybersecurity rests on three pillars: Confidentiality, Integrity, and Availability. Miss one, and the tripod wobbles!
Importance of Defense-in-Depth Strategy
It's not about building a wall; it's about creating layers. Every layer has its unique defense mechanism, ensuring that even if one fails, others stand strong.
Exploring CND Certification Benefits
A CND certification doesn't just boost your credentials; it propels your career to new horizons.
Enhanced Career Prospects
The cybersecurity realm craves professionals with a deep understanding of network defense. With CND, you're not just another fish in the pond; you're the prized catch.
Widely Recognized Credential
CND's global recognition is akin to an Ivy League degree in the academic world. It opens doors, fosters respect, and establishes authority.
Up-to-date Knowledge Base
In the dynamic field of cybersecurity, yesterday's tactics are obsolete today. CND ensures you're always equipped with the latest, making you adaptable and formidable.
Hands-On Network Defense Techniques
Navigating the intricate maze of cybersecurity requires more than just theoretical knowledge. Practical exposure is the flashlight that lights up this maze.
The Importance of Practical Exposure
Imagine learning to swim without ever getting into the water. Sounds absurd, doesn't it? Similarly, mastering network defense without hands-on training is a tall order. Practical sessions bridge the gap between theoretical concepts and their real-world applications.
Lab Exercises and Simulations
These aren't just computer labs. These are battlegrounds where you get to flex your skills against simulated cyber threats. Engaging in such exercises hones your skills, ensuring that when faced with a real threat, you're not caught off guard.
Real-world scenarios and Use Cases
Studying cases of past cyber-attacks can offer invaluable insights. It's like revisiting historical battles to strategize for upcoming ones. From understanding the attacker's mindset to identifying vulnerabilities, these scenarios are lessons in disguise.
Cyber Threat Landscape Analysis
In the vast terrain of the internet, threats loom at every corner. Understanding this landscape is pivotal in devising effective defense mechanisms.
The Current State of Cyber Threats
Every day, thousands of cyber-attacks are attempted. While some are rudimentary, others are sophisticated and can cripple entire organizations. Keeping a pulse on the current state of threats helps in anticipating and mitigating potential breaches.
Identifying and Analyzing Threats
Threats can be as blatant as a malware attack or as stealthy as a silent phishing attempt. Identifying these threats requires a keen eye while analyzing them demands a sharp mind. It's a game of chess where every move counts.
Strategies for Threat Mitigation
Once a threat is identified and analyzed, the next step is mitigation. Whether it's patching a vulnerability, updating a firewall, or educating the staff about potential phishing attempts, mitigation strategies can vary but are always crucial.
CND Training Curriculum Overview
The curriculum of CND isn't just a series of topics. It's a meticulously crafted journey designed to transform you into a network defense maestro.
Course Modules and Learning Outcomes
CND covers a range of modules, from the basics of network architecture to the intricacies of malware defense. Each module is tailored to ensure comprehensive learning outcomes, leaving no stone unturned.
Skills Acquired during Training
Beyond the obvious technical skills, CND training also imparts analytical and problem-solving abilities. It's about wearing multiple hats, from a network engineer to a strategic planner.
Continuous Learning and Updates
The world of cybersecurity is ever-evolving. As such, the CND curriculum isn't stagnant. It's regularly updated to include the latest threats and defense mechanisms, ensuring that you're always at the forefront of the field.
Expert Instructors and Industry Insights
Behind every successful CND graduate is a team of expert instructors, sharing their wealth of knowledge and industry insights.
Credentialed Faculty Profiles
CND trainers are not just educators; they're industry veterans. With years of experience under their belt, they bring to the table real-world experiences, enriching the learning process.
Incorporating the Latest Industry Trends
The world of cybersecurity is dynamic, with new trends emerging regularly. CND trainers, with their fingers on the industry's pulse, ensure that the training remains relevant and up-to-date.
Networking Opportunities
Beyond classroom learning, CND training also provides ample networking opportunities. Interacting with peers and trainers can open up avenues for collaborations, partnerships, or even job prospects.
Career Opportunities as a Cyber Sentinel
The realm of cybersecurity is vast, and with the CND certification, numerous doors swing wide open. Let's explore what lies beyond these doors.
Roles and Responsibilities
As a Cyber Sentinel, you'll be the guardian of the digital frontier. Roles may vary from Network Security Analyst to Security Operations Center (SOC) Manager. Each role, while distinct, revolves around the core principle of safeguarding digital assets.
Industry Demand and Salary Prospects
Cyber threats are omnipresent. With this ever-looming danger, the demand for skilled cyber sentinels is skyrocketing. This not only ensures job security but also promises attractive salary packages. The more adept you are, the higher your paycheck.
Growth and Advancement Opportunities
The cybersecurity domain is not stagnant. As threats evolve, so do defense mechanisms. This dynamic nature ensures continuous learning and growth opportunities. As you climb the ladder, you might find yourself strategizing defense mechanisms for entire organizations or even countries.
Success Stories from CND Graduates
Every CND graduate carries a tale of triumph, perseverance, and success.
From Novice to Network Guardian
John, a software developer, always had a penchant for cybersecurity. Enrolling in CND transformed this penchant into a full-fledged profession. Today, he heads the cybersecurity wing of a renowned tech firm.
Bridging the Gender Gap
Sophia, defying societal norms, dived into the male-dominated world of cybersecurity. With CND as her armor, she shattered glass ceilings, emerging as one of the top cybersecurity consultants in the region.
A Career Switch Worth Making
Alex, once an accountant, felt the monotony of numbers. CND training was his gateway into the thrilling world of cybersecurity. The switch, while challenging, was worth every sweat and tear.
Enroll Today for a Secure Tomorrow
Procrastination is a luxury you can't afford in the fast-paced world of cybersecurity. Every day wasted is an opportunity lost.
The Enrollment Process
Joining the League of Cyber Sentinels is just a few clicks away. The enrollment process for CND is straightforward, with guidance available at every step.
Investment and Returns
Yes, there's an investment involved, both time and money. However, the returns, in terms of knowledge, skills, and career opportunities, are unparalleled. It's an investment for a brighter, secure future.
Taking the First Step
Embarking on the CND journey might seem daunting, but remember, every expert was once a beginner. By taking this first step, you're not just securing your future but also contributing to a safer digital world.
---
In Conclusion:
Becoming a Cyber Sentinel through the Certified Network Defender training is not just about acquiring a certification. It's about embracing a mindset, a responsibility, and a mission to protect the digital world. With the skills acquired, the insights gained, and the opportunities unveiled, this journey promises to be transformative. So, why wait? Dive into the world of cybersecurity and make your mark!
Frequently Asked Questions (FAQs) about Certified Network Defender Training
What is the Certified Network Defender Training?
The CND Training is a comprehensive cybersecurity course focused on nurturing network defenders with hands-on labs and in-depth insights. The training prepares participants to manage and adapt technology infrastructures against cyber threats.
Who is the ideal candidate for the CND Training?
While anyone with a keen interest in cybersecurity can enroll, IT professionals, network administrators, and those working in network security will find it particularly beneficial.
How long is the CND Training program?
Typically, the CND Training spans a few weeks, comprising both theoretical lessons and hands-on labs. However, the duration might vary based on the institution offering the course.
Do I need prior knowledge of cybersecurity to enroll in CND?
While having a basic understanding of IT and networks can be beneficial, it's not mandatory. The course is structured to accommodate both beginners and experienced professionals.
How does CND differ from other cybersecurity certifications?
CND's uniqueness lies in its holistic approach, emphasizing both theoretical knowledge and practical skills. The training focuses on creating adept network defenders capable of identifying, combating, and mitigating cyber threats.
Is the CND certification recognized globally?
Yes, the CND certification is globally recognized and is often considered a benchmark in the field of network defense.
What career opportunities can I explore after obtaining the CND certification?
Post-certification, you can venture into various roles such as Network Security Analyst, Cybersecurity Consultant, Security Operations Center (SOC) Manager, and more.
Are there any refresher courses available post the initial certification?
Given the dynamic nature of cybersecurity, many institutions offer refresher courses or updates to ensure that CND graduates stay abreast of the latest developments.
How can I prepare for the CND certification exam?
The training itself is comprehensive, equipping you for the certification exam. However, consistent revision, practicing in labs, and seeking guidance from instructors can further bolster your preparations.
Is there a community or network of CND graduates I can join post-certification?
Absolutely! Many institutions have alumni networks or forums where CND graduates can collaborate, share insights, or even explore job opportunities.
Related Blogs
Threat Hunting Demystified: Your Gateway to a High-Paying Cybersecurity Job
Kali Linux Training: Your Key to Cybersecurity Success
CISSP Certification Made Easy – Enroll Now
Malware Analysis Certification: Your Path to Cybersecurity Excellence