CompTIA A+ Training Course in Delhi | Your Gateway to a Thriving IT Career
August 12, 2023

Posted by:

Vijay

Category:

CompTIA A+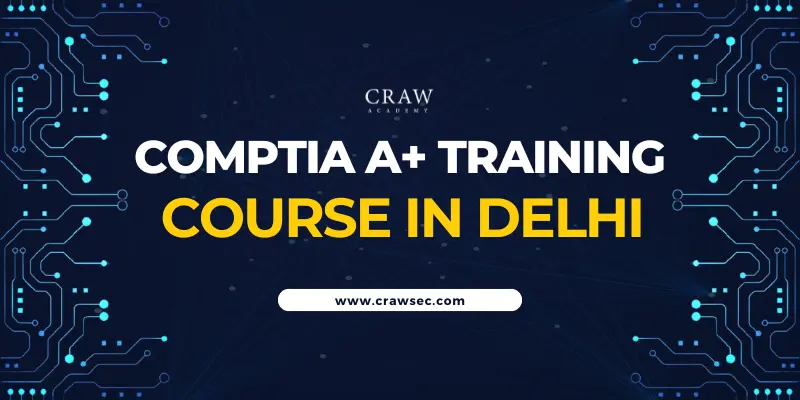 The ever-evolving realm of information technology is teeming with opportunities, advancements, and challenges. In this digitally driven era, possessing the right certifications can open the doors to rewarding IT careers. Among the myriad of IT certifications, the CompTIA A+ Training Course stands out, especially in bustling tech hubs like Delhi.
What is the CompTIA A+ Certification?
At its core, the CompTIA A+ certification is more than just a piece of paper – it's a testament to your foundational knowledge of computer systems, networks, and IT operations. It serves as a benchmark for technical support and IT operational roles, providing a clear indication that the holder can navigate the complex IT landscape, from troubleshooting to managing comprehensive systems.
How To Get A CompTIA A+ Certification?
Acquiring the CompTIA A+ Certification is a structured process that requires dedication:
Training: Begin by enrolling in a recognized training institution. Delhi, with its vast technological landscape, houses numerous esteemed centers offering in-depth CompTIA A+ training.
Examination: Upon completing your training, you'll face two major examinations: 220-1001 (Core 1) and 220-1002 (Core 2). Both exams assess your theoretical knowledge and practical skills.
Certification: Once both exams are conquered, you'll earn the prestigious CompTIA A+ certification, a testament to your dedication and prowess in IT.
Skills Acquired with CompTIA A+ Training
Embarking on this learning journey will equip you with:
Proficiency in hardware identification and troubleshooting.
Mastery in various operating system installations and upgrades.
An in-depth understanding of networking concepts.
A solid foundation in security essentials.
Competence in mobile device management.
Insight into virtualization and cloud computing.
Skills in maintaining operational procedures.
CompTIA A+ Training Course Highlights in Delhi
Delhi's CompTIA A+ Training courses are renowned for:
A curriculum aligned with international standards.
Hands-on experiences that simulate real-world IT challenges.
Interactive sessions facilitated by industry stalwarts.
Access to a plethora of practice tests and state-of-the-art study materials.
Career Avenues and Earnings with CompTIA A+ Certification
With the certification in hand, doors to various IT roles swing open:
IT Support Specialist
Technical Support Engineer
IT Operations Analyst
Field Service Technician
In the Indian job market, especially in tech hubs like Delhi, a CompTIA A+ certified professional can expect earnings ranging from INR 3-6 lakhs annually, contingent on experience and the employing organization.
Frequently Asked Questions about CompTIA A+
Where can I undertake the CompTIA A+ exam in Delhi? You can register and take the exam at authorized Pearson VUE testing centers scattered across Delhi. Additionally, the online testing mode through Pearson VUE is a viable alternative.
Is the investment in CompTIA A+ justified in 2023? Indeed! The certification, consistently updated to mirror the current IT paradigms, offers enduring value, particularly for those kickstarting their IT journey.
Will CompTIA A+ guarantee employment? While no certification offers a 100% job guarantee, the CompTIA A+ significantly amplifies your employability, making you a favorable candidate for myriad entry-level IT roles.
What roles can a CompTIA A+ certified professional assume? Such professionals are adept at handling, troubleshooting, and managing basic computer systems and networks, making them invaluable assets in virtually every IT department.
Is CompTIA A+ ideal for IT neophytes? Absolutely. Tailored for beginners, it provides a robust foundation in IT, setting the stage for more advanced certifications and knowledge.
Is the CompTIA A+ examination challenging? The perception of difficulty varies among aspirants. However, with rigorous training and preparation, many find the examination to be within their grasp.
To conclude, for those nestled in Delhi and dreaming of a lucrative IT career, the CompTIA A+ Training Course is an indispensable stepping stone. Its universal recognition, combined with the city's thriving tech landscape, offers a perfect blend of opportunity and growth. So gear up, delve into the world of IT with the CompTIA A+ certification, and watch your career aspirations come to fruition.
Read More Blogs
BEST ETHICAL HACKING COURSES ONLINE IN DELHI
USAGE OF XDR TOOLS: ENHANCING CYBERSECURITY IN THE MODERN DIGITAL LANDSCAPE
ETHICAL HACKING COURSE IN SAKET, NEW DELHI: MASTERING THE ART OF DIGITAL DEFENSE
INFORMATION SECURITY COURSE IN INDIA
CYBER SECURITY INTERVIEW QUESTIONS AND ANSWERS