Top 5 Essential Cyber Security Tips: Secure Your Black Friday Deals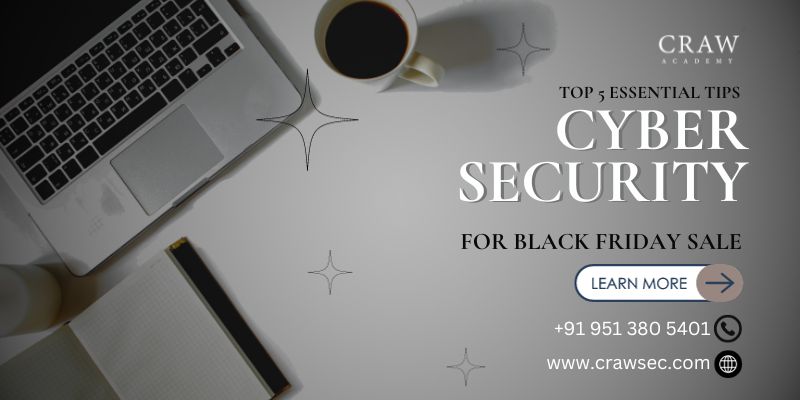 Top 5 Essential Cyber Security Tips For Black Friday sale
Unveiling the Risks For Cyber Security
Cybersecurity risks are a critical concern in today's digital world. They encompass a wide range of potential threats that can compromise the security of computers, networks, and data. Here are some key risks:
Malware: Malicious software like viruses, worms, and trojans can infect systems, leading to data loss, theft, or damage.
Phishing Attacks: Cybercriminals use deceptive emails or messages to trick individuals into revealing sensitive information, like passwords and credit card numbers.
Ransomware: This type of malware encrypts a victim's data, and the attacker demands a ransom to restore access.
Data Breaches: Unauthorized access to or exposure to personal information can occur due to weak security systems or human error.
Insider Threats: Employees or associates with access to an organization's networks can intentionally or accidentally cause significant harm.
DDoS Attacks: Distributed Denial of Service attacks overwhelm systems, networks, or websites with traffic, rendering them unusable.
Man-in-the-Middle Attacks: Attackers intercept communication between two parties to steal or manipulate data.
Zero-Day Exploits: Hackers exploit unknown vulnerabilities in software or hardware before developers have a chance to create a patch.
AI-Enhanced Cyberattacks: The use of artificial intelligence by cybercriminals can lead to more sophisticated and hard-to-detect attacks.
IoT Vulnerabilities: As more devices connect to the internet, the risk of attacks on these less secure points increases.
Supply Chain Attacks: Compromising a supplier or service provider can give attackers access to their customers' data or systems.
Cryptojacking is the unauthorized use of someone else's computer resources to mine cryptocurrency.
Social engineering involves manipulating individuals into performing actions or divulging confidential information.
Weak Passwords: Simple or reused passwords can easily be guessed or cracked, leading to unauthorized access.
Mobile Device Vulnerabilities: Mobile devices can be exploited, especially if they lack the latest security updates or are connected to insecure networks.
Cloud Security Risks: As more data and services move to the cloud, insufficient cloud security measures can lead to data breaches and other threats.
State-Sponsored Attacks: Governments may sponsor cyberattacks for espionage, disruption, or influence.
Legal and Regulatory Compliance Risks: Failing to comply with data protection laws can result in significant legal and financial consequences.
Tip 1: Strong Password Strategies
Strong password strategies are essential for enhancing cybersecurity and protecting against unauthorized access to accounts and systems. Here are some effective strategies for creating and managing strong passwords:
Length and Complexity: Create passwords that are at least 12–16 characters long and include a mix of uppercase and lowercase letters, numbers, and special characters. The longer and more complex the password, the harder it is to crack.
Avoid Common Words and Patterns: Steer clear of easily guessable passwords like "password," "123456," or simple patterns like "abcd." Also, avoid using easily accessible personal information like birthdays or names.
Use Passphrases: Consider using a passphrase—a sequence of words or a sentence—which can be easier to remember and just as secure if it's sufficiently long and unique. For example, "BlueSky$Morning7!".
Unique Passwords for Each Account: Avoid using the same password across multiple accounts. If one account is compromised, others remain secure.
Password Managers: Utilize a password manager to generate and store complex passwords. This tool can create strong passwords and store them securely, so you don't need to remember each one.
Two-Factor Authentication (2FA): Whenever possible, enable 2FA. This adds an extra layer of security by requiring a second form of verification (like a text message code) in addition to the password.
Regularly Update Passwords: Change your passwords regularly, especially for sensitive accounts like banking or email. However, frequent changes are not necessary if the passwords are strong and there's no sign of a security breach.
Avoid Writing Down Passwords: If you must write them down, ensure they're kept in a secure place not easily accessible to others.
Be Wary of Security Questions: Choose security questions and answers that aren't easily guessable. Sometimes, it's safer to treat the answers to security questions like additional passwords.
Educate About Phishing Scams: Be aware of phishing attempts where you might be tricked into revealing your password. Never enter your password after clicking on a link in an email or message unless you're certain it's legitimate.
Monitor for Breaches: Keep an eye on news about data breaches, and change your passwords if a service you use has been compromised.
Avoid Using Public Wi-Fi for Sensitive Transactions: When accessing important accounts, avoid using public Wi-Fi networks unless you're using a secure VPN, as these networks can be less secure.
Secure Your Devices (Tip 2)
Securing your devices is a crucial aspect of maintaining cybersecurity. Here are some tips to help ensure your devices remain secure:
Use Strong Passwords and Authentication: Set strong, unique passwords for all your devices. Consider enabling biometric authentication, like fingerprint or facial recognition, for added security.
Keep Software Updated: Regularly update the operating system and all applications on your devices. Software updates often include patches for security vulnerabilities.
Install Antivirus Software: Use reputable antivirus and anti-malware software to protect against malicious attacks. Ensure it's always updated to the latest version.
Enable Firewall Protection: Most operating systems come with a built-in firewall. Ensure it is activated to block unauthorized access to your device.
Use Secure Wi-Fi Connections: Avoid using public Wi-Fi for sensitive transactions. If necessary, use a virtual private network (VPN) to encrypt your internet connection.
Be Cautious with Downloads: Only download apps and software from trusted sources to avoid malicious software.
Backup Your Data: Regularly backup important data to an external drive or cloud service. This protects your data in case of a cyberattack or hardware failure.
Enable Device Tracking and Remote Wiping: Use features like 'Find My Device' for smartphones or laptops. In case of loss or theft, you can track or remotely erase data on the device.
Secure Your Home Network: Change the default name and password of your Wi-Fi router. Consider using WPA3 encryption for your home Wi-Fi network.
Disable Unnecessary Features: Turn off features like Bluetooth, GPS, and wireless connections when not in use to reduce vulnerabilities.
Educate Yourself on Phishing Scams: Be aware of phishing attempts and avoid clicking on suspicious links or downloading attachments from unknown sources.
Limit Physical Access: Keep your devices in a secure location to prevent unauthorized physical access.
Use Encrypted Messaging Apps: For sensitive communications, use apps that offer end-to-end encryption.
Audit Device Permissions: Regularly review the permissions granted to applications on your devices, especially access to your camera, microphone, and location data.
Enable Security Alerts: Set up security alerts for unusual activities, like logins from unknown devices or locations.
Tip 3: Stay Wary of Phishing Attacks
Staying wary of phishing attacks is an essential part of maintaining cybersecurity. Phishing attacks are deceptive attempts to obtain sensitive information by impersonating legitimate sources. Here are some tips to help you recognize and avoid these attacks:
Be skeptical of unsolicited communications. Phishing attempts often come in the form of emails, text messages, or phone calls that you weren't expecting. Be cautious of unsolicited requests for personal, financial, or login information.
Examine email addresses and URLs carefully. Check the sender's email address and hover over any links to see the actual URL before clicking. Phishing emails often have slight misspellings or use a domain that looks similar to a legitimate one.
Look for generic greetings and spelling errors. Phishing emails often use generic greetings like "Dear Customer" and may contain spelling or grammatical errors.
Don't Click on Suspicious Links or Attachments: Avoid clicking on links or downloading attachments from unknown or untrusted sources. These can lead to malicious websites or install malware on your device.
Verify the source: If an email or message seems suspicious, contact the organization directly using a phone number or website address you know is genuine.
Be Cautious with Personal Information: Legitimate organizations will not ask for sensitive information like passwords, social security numbers, or banking details via email.
Keep Your Software Updated: Ensure your operating system, antivirus software, and web browsers are up-to-date to protect against the latest threats.
Educate yourself and others. Stay informed about the latest phishing techniques. Educating friends, family, and colleagues can also help prevent them from becoming victims.
Report Phishing Attempts: If you encounter a phishing email, report it to the appropriate authorities, such as your company's IT department or the organization being impersonated.
Use Anti-Phishing Toolbars: Some internet browsers offer anti-phishing toolbars that can help detect and block malicious websites.
Be Cautious on Social Media: Phishing attacks can also occur via social media. Be wary of suspicious messages or friend requests, and don't share sensitive information on these platforms.
Encrypting Your Transactions (Tip 4)
Encrypting your transactions is a critical cybersecurity measure to protect sensitive information, especially during online financial activities. Here are some tips for ensuring your transactions are securely encrypted:
Use Secure Websites: When shopping or banking online, ensure the website uses HTTPS (indicated by a padlock icon in the address bar). This means the data you send and receive is encrypted.
Avoid Public Wi-Fi for Transactions: Public Wi-Fi networks are less secure. Avoid conducting financial transactions or sending sensitive information over these networks. If necessary, use a reliable virtual private network (VPN) to encrypt your internet connection.
Enable Two-Factor Authentication (2FA): Use 2FA for your online accounts. This adds a layer of security, making it harder for attackers to gain access even if they have your password.
Use a Secure Payment Gateway: When making online payments, ensure the platform uses a secure, encrypted payment gateway.
Tip 5: Two-Factor Authentication Essentials
Two-factor authentication (2FA) is a security process where users provide two different authentication factors to verify themselves. This method adds an extra layer of security to the traditional single-password method. Here are some key points to know about 2FA:
Types of Authentication Factors: The two factors used for authentication generally belong to one of the following categories:

Knowledge: Something the user knows (like a password or PIN).
Possession: Something the user has (like a mobile phone or security token).
Inherence: Something the user is (like a fingerprint or facial recognition).

Methods of 2FA: Common methods include SMS codes sent to a user's phone, authenticator apps that generate time-limited codes, physical tokens, biometric verification, and even email-based codes.
Benefits of 2FA:

Enhanced Security: By requiring a second form of identification, 2FA makes it harder for attackers to gain access to a person's devices or online accounts.
Mitigates Risk: Even if a password is stolen, unauthorized access is less likely since the password alone is not enough to pass the security check.

Implementation Considerations:

User Convenience: While adding security, 2FA should be user-friendly. Overly complicated processes may deter users from adopting them.
Backup Methods: It's important to have backup methods (like backup codes) in case the primary method (like a phone) is unavailable.

Potential Vulnerabilities:

SMS-based 2FA: Though common, SMS-based 2FA is less secure than other methods as texts can be intercepted or redirected.
Phishing Attacks: Users can still be vulnerable to phishing attacks, where they might be tricked into revealing their 2FA codes.

Best Practices:

Use Authenticator Apps: Prefer authenticator apps over SMS if possible, as they are generally more secure.
Regularly Update Security Information: Keep your recovery information up-to-date, like your backup email or phone number.
Educate Users: Users should be aware of phishing scams and the importance of keeping 2FA methods private.

Industry Adoption: Many online services, including banking, email providers, and social media platforms, now offer or require 2FA, reflecting its importance in modern digital security practices.
Safe Wi-Fi Practices (Tip 6)
Safe Wi-Fi practices are crucial for maintaining cybersecurity. Here are some essential tips to keep in mind:
Use secure Wi-Fi networks.

Always connect to secure, password-protected Wi-Fi networks. Avoid using public Wi-Fi for sensitive activities like online banking.
When using public Wi-Fi, ensure the network is legitimate and not a rogue access point set up by cybercriminals.

Enable strong encryption.

Use Wi-Fi networks that employ strong encryption methods, like WPA3 or WPA2. Avoid networks using outdated WEP encryption.
Ensure your home router is set up with WPA2 or WPA3 encryption for a secure connection.

Use Virtual Private Networks (VPNs):

Employ a VPN when connecting to Wi-Fi networks, especially public ones. VPNs encrypt your data, making it harder for hackers to intercept.
Choose a reputable VPN provider to ensure the security and privacy of your data.

Keep Software Updated:

Regularly update the firmware of your Wi-Fi router to patch any security vulnerabilities.
Ensure that all devices connecting to the Wi-Fi network are up-to-date with the latest security patches and antivirus software.

Avoid automatic connections.

Disable features on your devices that automatically connect to available Wi-Fi networks, as this can lead to connecting to insecure or malicious networks without your knowledge.

Monitor network access:

Regularly check the devices connected to your home network. Unrecognized devices could indicate unauthorized access.
Consider using network monitoring tools for an added layer of security.

Change Default Credentials:

Change the default username and password of your Wi-Fi router to something strong and unique. Default credentials are often well-known and easily exploited by attackers.
Tip 7: Regular Software Updates
Sad Regular software updates are a vital part of maintaining cybersecurity. Here's why they are important and some best practices:
Patching Vulnerabilities:

Software updates often include patches for security vulnerabilities that have been discovered since the last update.
Cybercriminals exploit known vulnerabilities, so keeping your software up-to-date is crucial to protect against such attacks.

Enhancing security features:
Updates can introduce new security features or improve existing ones, enhancing your overall security posture.
Maintaining Compliance:
In certain industries, staying up-to-date with software updates is a compliance requirement to ensure data protection and security standards are met.
Improving Performance:
Along with security improvements, updates often include fixes for bugs that can improve the stability and performance of your software.
Best Practices for Regular Software Updates:

Automatic Updates: Enable automatic updates wherever possible. This ensures that software is updated as soon as a new version is available.
Prioritize Critical Updates: Always prioritize updates that are labeled as critical or security updates.
Educate Employees: In a business setting, ensure that all employees understand the importance of regular software updates.
Regularly Check for Updates: Regularly check for and manually install updates for software that doesn't support automatic updates.
Backup Before Updating: Always backup your important data before performing major updates to avoid data loss in case something goes wrong.
Stay Informed: Keep informed about the latest security threats and the updates released to mitigate them.

Update all types of software:

It's important to update not just your operating system but also applications, web browsers, antivirus software, and other tools.
Don't forget about updating firmware on devices like routers, IoT devices, and printers, as these can also be security vulnerabilities.

Secure End-of-Life Software:

Be aware of the software that has reached its end-of-life and no longer receives updates. Plan to replace or secure these systems appropriately.
Protecting Personal Information (Tip 8)
Protecting personal information is essential in today's digital age to prevent identity theft, fraud, and unauthorized access to your accounts. Here are some key tips for safeguarding your personal information:
Use strong, unique passwords:

Create complex passwords using a mix of letters, numbers, and symbols. Avoid using easily guessable information like birthdates or common words.
Use different passwords for different accounts. If one account is compromised, others remain secure.

Enable two-factor authentication.
Whenever possible, enable two-factor authentication (2FA) for an additional layer of security beyond just a password.
Beware of Phishing Scams:

Be cautious about emails, messages, or phone calls requesting personal information. Verify the source before sharing any information.
Do not click on links or download attachments from unknown or suspicious sources.

Secure your devices:

Use security features like passwords, fingerprint recognition, or facial recognition to lock your devices.
Keep your devices' operating systems and applications updated to protect against the latest security vulnerabilities.

Use secure networks.
Avoid transmitting personal information over public Wi-Fi networks. Use a VPN (virtual private network) for enhanced security if you need to access personal information on public networks.
Monitor your accounts.

Regularly check your bank and credit card statements for any unauthorized transactions.
Consider using credit monitoring services to be alerted to any suspicious activities involving your identity.
Cyber Security Checklist for Tips For Black Friday

Cyber Security Checklist to ensure a secure Black Friday shopping experience:
Update Your Passwords: Ensure your online accounts have strong, unique passwords. Consider using a reputable password manager for added security.
Device Security Check: Verify that your devices (computer, smartphone, tablet) have the latest security updates and antivirus software installed.
Beware of Phishing Attempts: Stay vigilant for suspicious emails, messages, or links. Only click on links from trusted sources to avoid falling victim to phishing scams.
Secure Transactions with Encryption: When making purchases, ensure the website's URL starts with "https://" to guarantee a secure, encrypted connection.
Enable Two-Factor Authentication (2FA): Add an extra layer of security to your accounts by enabling 2FA wherever possible.
Safe Wi-Fi Practices: Shop on secure and trusted networks. Avoid using public Wi-Fi for sensitive transactions to minimize the risk of data interception.
Regular Software Updates: Keep your operating system, antivirus software, and applications up-to-date to patch potential security vulnerabilities.
Protect personal information. Be cautious about sharing unnecessary personal information. Limit the details you provide during the checkout process.
Monitor your accounts. Regularly review your bank and credit card statements for any unauthorized transactions. Report any suspicious activity immediately.
Stay informed: Stay updated on the latest cyber threats and security best practices. Knowledge is key to staying one step ahead of potential risks.
Read More Blogs
Unlock Your Cyber Security Career: A Comprehensive Course
Red Hat Certified System Administrator – Unlock Linux Mastery Fast 
From Beginner to Pro: Navigating the Python Programming Odyssey
Ethical Hacking Winter Training Internship in Delhi
The Definitive Guide to AWS Cloud Security Training