What are the 5 Stages of Ethical Hacking?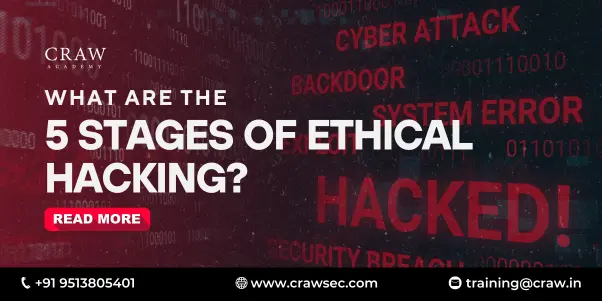 As the digital landscape evolves, the risks associated with cyber threats are escalating. The need for ethical hackers — professionals who test network systems for vulnerabilities to strengthen them — has never been greater. To ensure the effectiveness of their investigations, ethical hackers usually follow a structured approach. Here, we'll delve into the five critical stages of ethical hacking.
1. Reconnaissance
What it is: Often regarded as the "pre-attack phase", reconnaissance is the stage where the hacker gathers as much information as possible about the target system. This information aids in finding vulnerabilities.
Methods:
Passive Reconnaissance: Without directly interacting with the target system, hackers gather data from publicly available sources.
Active Reconnaissance: This involves directly interacting with the target system, like pinging the system.
Importance: The information gathered during this stage determines the course of the hacking process. A thorough reconnaissance can lead to the discovery of overlooked, publicly available data, which might provide significant insights.
2. Scanning
What it is: Once preliminary data has been gathered, the ethical hacker starts identifying live hosts, open ports, services running, and services' version details. The purpose is to discover vulnerabilities.
Tools often used: Nmap, Nessus, and Wireshark.
Importance: This stage narrows down the potential weak points in a system. By understanding which ports are open and what services are running, hackers can target specific vulnerabilities associated with those services.
3. Gaining Access
What it is: This is the phase where actual hacking takes place. Ethical hackers try to exploit the vulnerabilities they've found to enter the system.
Methods: Various methods, from buffer overflow attacks to session hijacking or even using malware.
Importance: Successfully gaining access validates the existence of the vulnerability. It also provides insights into what kind of damage a malicious hacker could achieve if they were to exploit the same weakness.
4. Maintaining Access
What it is: Here, the ethical hacker simulates a real-world attack scenario where a malicious hacker would attempt to create a backdoor for themselves, ensuring they have continued access to the network.
Methods: Techniques like rootkits, Trojans, and other malware types.
Importance: This stage is crucial for understanding the depth of a potential breach. By establishing that a malicious entity can maintain long-term access, organizations realize the profound importance of regular security check-ups and updates.
5. Analysis and Reporting
What it is: After the testing, ethical hackers must report their findings to the organization's concerned parties. This report typically includes a summary of the assessment, vulnerabilities found, data accessed, and recommendations for securing the system.
Importance: The report provides organizations with actionable insights. By understanding the vulnerabilities and receiving recommendations on rectifying them, organizations can take immediate action to fortify their digital assets.
Conclusion:
Ethical hacking is a systematic process that helps organizations identify potential vulnerabilities in their systems. These five stages ensure that the ethical hacker's approach is thorough, covering all aspects of potential cyber threats. As cyber-attacks become more frequent and advanced, understanding and implementing these stages is crucial for any organization keen on safeguarding its digital assets.
Read More Blogs
IS ETHICAL HACKING IN DEMAND?
AWS CLOUD SECURITY COURSE IN SAKET, NEW DELHI: ELEVATE YOUR EXPERTISE 2023
TRANSITIONING TO A THRIVING CAREER IN CYBER SECURITY: YOUR ULTIMATE GUIDE
UNLEASH THE POWER OF MOBILE APPLICATION SECURITY COURSE IN SAKET, NEW DELHI 2023
WHAT ARE THE 10 RULES THAT ETHICAL HACKERS FOLLOW?