Cyber Awareness Training Program in Delhi: Essential in Today's Digital Era
August 25, 2023

Posted by:

Tinku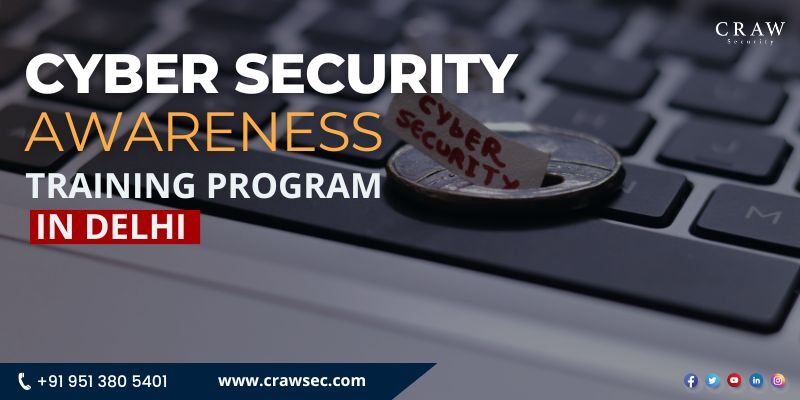 Cyber Awareness Training Program in Delhi: Essential in Today's Digital Era
Introduction
The rapid expansion of the digital realm has also brought along numerous security threats, with cyber-attacks emerging as a primary concern. Addressing this, the cyber awareness training program in Delhi stands as a beacon, illuminating the path towards a secure online environment. But what makes it so crucial? Let's decode its manifold advantages.
Cyber Awareness Training Program in Delhi: An Overview
Cyber awareness programs have mushroomed across the globe, but the ones in Delhi stand out, courtesy of their comprehensive curriculum and practical approach. They aim not just to inform but to imbue a culture of security among the participants.
The Genesis of the Program
The digital frontier, though revolutionary, has its shadows. With increasing cyber-attacks, there emerged a pressing need for robust awareness programs. Delhi, being a pivotal tech hub, rose to the occasion by initiating these programs.
The Curriculum: A Blend of Theory and Practice
Going beyond the traditional, these training sessions are a mix of theoretical knowledge and hands-on experience. It's not just about knowing; it's about applying.
Qualified Instructors: The Pillars of the Program
Behind every successful training program lies a team of dedicated experts. In Delhi, seasoned professionals with years of field experience undertake the teaching mantle.
The Target Audience: Beyond IT Professionals
While IT experts are regular participants, the program also reaches out to students, educators, and the general public, underscoring its universal relevance.
Key Benefits of the Cyber Awareness Training Program
For the uninitiated, the significance of this program might appear overstated. However, the benefits are multifaceted.
Elevating the Security Posture
Knowledge is the first line of defense. By understanding the threats, individuals can take proactive measures to protect their digital assets.
Fostering a Culture of Vigilance
It's not just about one-time learning. The program instills a continuous sense of caution, prompting regular security checks and updates.
Minimizing Human Errors
Often, breaches occur due to inadvertent human mistakes. Proper training significantly reduces such instances.
Empowering Individuals
Cyber awareness isn't just organizational; it's personal. The training empowers individuals, enabling them to secure their personal data.
Boosting Organizational Reputation
A well-informed team can be a company's strongest asset, elevating its reputation by ensuring data protection.
Comparing Delhi's Program with Global Counterparts
While cyber awareness is a global endeavor, regional nuances make each program unique. Delhi's initiative, with its tailored approach, often emerges superior.
Testimonials: Stories of Transformation
Many have been transformed post this training, emerging more informed and vigilant. Their stories are a testament to the program's efficacy.
Future Trajectory: The Road Ahead
The cyber landscape is ever-evolving. Consequently, the cyber awareness training program in Delhi also continuously updates, ensuring participants remain ahead of the curve.
FAQs
What is the primary objective of the program?
The main goal is to educate participants about cyber threats and arm them with strategies to counter these threats effectively.
Who can enroll in the program?
Everyone from IT professionals to students and the general public can enroll. It's tailored to cater to varied audiences.
How does Delhi's program differ from others?
Delhi's initiative is renowned for its comprehensive curriculum, hands-on approach, and expert instructors, setting it apart.
Is the training a one-time event?
No, considering the dynamic nature of the cyber world, refresher courses, and updates are periodically offered.
How is the training's success measured?
Apart from feedback, the reduced number of cyber breaches post-training serves as a key performance indicator.
Can organizations customize the program for their specific needs?
Yes, many providers offer bespoke training solutions catering to an organization's unique requirements.
Conclusion
The cyber awareness training program in Delhi is more than just an educational course; it's a movement towards a safer digital realm. With its holistic approach, expert instructors, and future-ready curriculum, it's an indispensable resource for anyone navigating the online world.