Why Need For Cyber Security Now A DAY
Why Need For Cyber Security Now A DAY
The risk of cybersecurity is increasing day by day and it is mainly because we are connected to the entire world by a simple tap on App. The cloud services we use have our sensitive data and if that gets breached, an organization can suffer a lot. Hackers are becoming better and using sophisticated tools. We are no longer in a phase where simple antivirus or firewalls could protect against Information breaches. These vulnerabilities are skyrocketing and therefore, there is a hike in the demand for cybersecurity professionals.
Cybersecurity is no longer limited to IT industries, due to the change in nature of business and shift towards digital, every industry needs information security. It is better to care about your data security than repenting later. As they say, "Better safe than sorry".
WHY IS CYBER SECURITY IMPORTANT?
Trends have changed in the past decade and now our social structure is highly dependent upon technology. We are not only online on social media but also dependent on our devices for remembering our sensitive information like passwords, security numbers, bank details, etc. This information gets stored on cloud our Google Drive or Dropbox and hence, vulnerable to get exploited.
The government also has our sensitive data and if the data for the entire nation gets in the wrong hands, it could be about national security as well. Information security has become one of the prime concerns for every nation, industry, company, and individual because people are realizing the dependency on the internet and technology and how much it can hurt but it is almost impossible to take a reverse path because it will hinder our course of progress.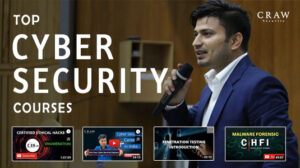 VALUE OF INFORMATION
These days, data is the most expensive and important asset. Due to the low costs of using the Cloud, extensive usage has increased. Crimes with ransomware and phishing are the most common ones. Companies that appoint third-party vendors for data processing may have poor security practices and this can pose serious problems.
Different types of threats include data breaches of credit card numbers, bank account details, personally identifiable information, intellectual property, trade secrets, etc. There have been so many public interest messages by the government and RBI about not sharing PIN numbers or OTPs to make consumers aware of the risks involved.
EFFECTS OF CYBERCRIME
Negligence towards cybersecurity can cause various issues like:
Monetary issues: Loss of trade secrets, intellectual property, and cost of damage control against information breaches can cost a lot
Customer data loss can irrevocably destroy the reputation of the company and the trust of customers.
Lack of implementation of cybersecurity protocols can lead to fines and notice from Regulatory bodies
Cybersecurity is not a one-time thing and it is very important to invest in it. Employees should be aware of potential risks and get required training.
PROTECTING ORGANIZATIONS FROM CYBERCRIME
Since the cost of a data breach is very high, cost-cutting in this domain can prove to be detrimental. It is difficult to detect and resolve these threats so, hiring competent professionals is the best thing to do. Customer's trust once lost, make sit difficult to gain back. Making the right choice at the right time can prevent havocs. All levels of employees should be aware of the threats, third-party vendors should be chosen carefully, and the best possible cybersecurity professionals should be hired.
Top 4 Cybersecurity Practices
In today's times, it is important for every organization to build and develop a cybersecurity culture by nurturing it in the core values of the organization and making the employees of the organization aware and sensitive about the issue. Security administrators of the company deploy an entire IT team to keep the organization and its data safe but that is not the only measure a company should take. Although predicting the threats and the intentions of malicious users' may not be certain, preparing ourselves is the least we can do!
It is true that human errors are the most common source of breaches in company systems. Security experts try to keep the systems and network protected but if human errors are there, even the best of security software would not be able to protect the organization. Here are 4 best practices to ensure cyber security in the workplace:
1. Cyber security training for employees
Training employees regarding how the threats work and what could be the common possible ways they can fall in traps of hackers. Awareness training should include Phishing, Ransomware, Vishing, etc. Email phishing has become very common. Employees should be aware regarding checking the authenticity of the sender's email ID. Sharing confidential information without confirming can be detrimental. Some basic measures to avoid human error should also be included in the training.
2. How to Setup Email Authentication Protocol
This is essential to ensure email deliverability by preventing emails from being spoofed. Phishing and other social engineering attacks mainly by forging the sender's name and other details can be prevented. Prevention of surpassing such forged mails into the system can make it easier for the IT department to ensure more safety. Desired tools that can enable Complete Email Channel Monitoring along with Dynamic SPF (Sender Policy Framework), Dynamic DMARC (Domain-based Message Authentication, Reporting & Conformance), and automatic detection of SPF IP and DNS update. Deploying such tools and making employees aware of them can be very helpful.
3. Email authenticity Verification
 Phishing emails are difficult to recognize as cybercriminals are using sophisticated tools and techniques by spoofing known email addresses, names, etc. Providing personal or professional information to such mails can corrupt the entire system. These cybercriminals use financial incentives to lure employees or sometimes forge the identities of the bosses to get the receiver of the mail to respond immediately and share information.
It is pivotal for any organization to implement an email authenticity verification solution in an organization to report suspicious-looking emails instantly and after reporting such emails should be deleted from all other inboxes of the employees.
4. Continuous Brand Monitoring
The brand is the face of any organization and that represents the value of that organization. Some fraudulent practices can affect how the brand is treating their customers, their complaints, etc. Proactive brand monitoring makes it easier to detect and resolve such issues happening on domains, websites, or mobile applications of the organization.
Cyber-attacks have become more common and sophisticated in the past decade and therefore, it is highly important that the above-mentioned practices are deployed in the organization to ensure smooth functioning of the organization and safety of the data.
Contact us



Select Training CourseDIS- Diploma in Information Security1 Year Diploma Information securityEthical HackingAdvanced Penetration Testing (ECSA)Cyber Forensics InvestigationIn-depth Advance NetworkingWeb Application SecurityMobile Application SecurityPython ProgrammingCCNA 201-301CCNP SecurityRed Hat (RHCSA)Red Hat (RHCE)CompTIA A+CompTIA Network+CompTIA Security+CompTIA PenTest+CompTIA (CySA+)CompTIA (CASP+)Network VAPTArtificial IntellegenceData Science with PythonMachine Learning with PythonAWS AssociateAWS SecurityInternet of Things(IOT)End Point SecurityLinux EssentialsBasic NetworkingAndroid ProgrammingRed Hat OpenstackKali LinuxAzure
Captcha validation failed. If you are not a robot then please try again.