5 Cybersecurity Career Paths Worth Investigating in 2023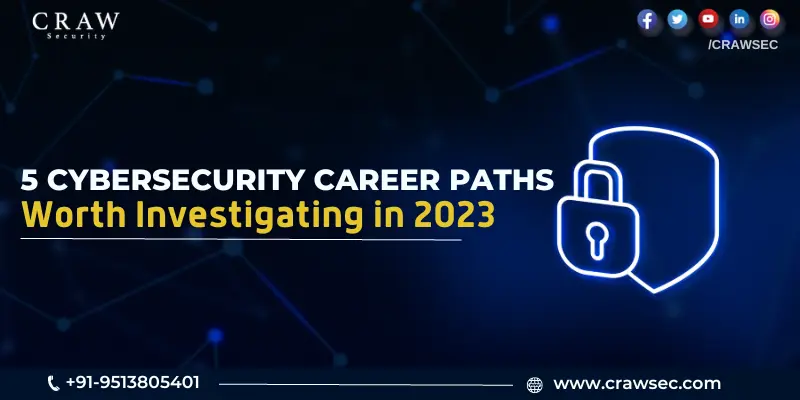 Cyber threats loom larger every day, making cybersecurity one of the most sought-after fields in the tech sector. If you're contemplating a career in this domain, understanding the various paths available can help you make an informed decision.
What Does a Career in Cybersecurity Look Like?
A career in cybersecurity is about protecting organizations from cyber threats, ensuring data integrity, and maintaining confidentiality. It requires a mix of technical acumen, constant learning, and staying updated with the latest threats and defense mechanisms.
What Are Some Different Cybersecurity Career Paths?
1. Cybersecurity Engineers
Overview: Cybersecurity engineers are professionals who use their expertise in technology and understanding of cybersecurity principles to design and implement secure systems to protect data and networks from cyber threats.
Role & Responsibilities: Their roles often involve:

Designing secure network solutions.
Evaluating and implementing security tools and technologies.
Defending against cyber threats in real-time.
Working on encryption techniques and firewall protection.
Regularly monitoring system for unusual activities.
Job Titles:
Security Engineer: This professional works to build and maintain a secure system or network, defending against malicious attacks.
Application Security Engineer: Focuses on ensuring that software applications are free of vulnerabilities and threats.
Cloud Security Engineer: Specializes in securing cloud-based platforms and services.
Network Security Engineer: Ensures the security of a company's computer networks.
Prerequisites:
A bachelor's degree in cybersecurity, computer science, information technology, or related field.
Knowledge of security architectures, tools, and technologies.
Certifications such as Certified Information Systems Security Professional (CISSP) or Certified Information Security Manager (CISM) can be beneficial.
2. Testing
Overview: In the realm of cybersecurity, testing is a proactive method to identify weaknesses and vulnerabilities in systems, applications, and networks before malicious hackers can exploit them.
Role & Responsibilities:

Conducting penetration tests to simulate cyberattacks and identify vulnerabilities.
Evaluating the strength of security measures in place.
Recommending changes and upgrades to ensure protection.
Documenting findings and working with other teams to address vulnerabilities.
Job Titles:
Penetration Tester: Tests systems, networks, and applications to find vulnerabilities that could be exploited.
Vulnerability Assessor: Identifies, quantifies, and prioritizes vulnerabilities in systems.
Security Auditor: Reviews systems and procedures to ensure they meet security standards and regulations.
Prerequisites:
A bachelor's degree in a related field.
Knowledge of hacking tools and techniques.
Certifications such as Certified Ethical Hacker (CEH) or Offensive Security Certified Professional (OSCP).
3. Cybersecurity Analysts
Overview: Cybersecurity analysts play a crucial role in protecting an organization's computer systems and networks by continuously monitoring for threats, analyzing risks, and implementing strategies to defend against cyberattacks.
Role & Responsibilities:

Monitoring network traffic and logs for suspicious activities.
Investigating security breaches and other cybersecurity incidents.
Installing security measures and operate software to protect systems and information infrastructure.
Recommending and implementing enhancements to improve system security.
Job Titles:
Cybersecurity Analyst: Monitors networks and systems for security breaches and investigates violations when they occur.
Threat Intelligence Analyst: Studies and analyzes trends and developments in the threat landscape.
Security Operations Center (SOC) Analyst: Monitors and manages security alerts from various sources within an organization's SOC.
Intrusion Analyst: Detects and investigates unauthorized access to systems.
Prerequisites:
A bachelor's degree in cybersecurity or a related field.
Familiarity with intrusion detection systems and firewalls.
Certifications like CISSP or CompTIA Security+ can be advantageous.
4. Response
Overview: The response domain in cybersecurity focuses on the actions taken after detecting a security incident or breach. This involves ensuring that the threat is contained, damage is minimized, and operations are restored as quickly as possible.
Role & Responsibilities:

Responding to cybersecurity incidents in a timely manner.
Coordinating with different teams and stakeholders during incidents.
Analyzing incidents to determine their source, cause, and impact.
Conducting digital forensic investigations.
Documenting incidents, lessons learned, and recommending preventive measures for the future.
Job Titles:
Incident Responder: Deals with security incidents, ensuring they are dealt with swiftly and efficiently.
Cybersecurity Incident Manager: Coordinates the response to major security breaches.
Forensic Analyst: Investigates cybercrimes, collecting, analyzing, and preserving evidence.
Prerequisites:
A bachelor's degree in cybersecurity, digital forensics, or related discipline.
Knowledge of incident response protocols and forensic tools.
Certifications like GIAC Certified Incident Handler (GCIH) or Computer Hacking Forensic Investigator (CHFI).
5. Auditing
Overview: Cybersecurity auditing focuses on assessing, examining, and verifying an organization's cyber-related policies, practices, and controls to ensure they meet desired security standards and regulatory requirements.
Role & Responsibilities:

Reviewing and evaluating IT systems, operations, and practices against accepted standards, regulations, and best practices.
Identifying areas where improvements are required.
Ensuring compliance with cybersecurity policies and procedures.
Reporting on findings and recommending corrective actions.
Working with stakeholders to ensure understanding and compliance.
Job Titles:
Cybersecurity Auditor: Evaluates an organization's information systems for security weaknesses.
IT Compliance Auditor: Ensures IT systems comply with laws and regulations.
Security Control Assessor: Evaluates and tests security controls in IT systems.
Prerequisites:
A bachelor's degree in information technology, cybersecurity, or a related field.
Familiarity with relevant laws, regulations, and standards.
Certifications such as CISSP or Certified Information Systems Auditor (CISA).
Overall, cybersecurity offers a variety of rewarding career paths. As cyber threats continue to evolve, the demand for skilled professionals in this sector will only increase. Continuous learning and staying updated with the latest trends and technologies are crucial in this field.
Choosing a Path and Climbing the Career Ladder: Jobs at Different Levels
Entry-Level Cybersecurity Jobs:
Cybersecurity Intern
Information Security Analyst
IT Auditor
Mid-Level Cybersecurity Jobs:
Penetration Tester
Security Engineer
Forensic Analyst
Senior Cybersecurity Jobs:
Cybersecurity Architect
Chief Information Security Officer (CISO)
How To Start a Career in Cybersecurity: General Requirements
Foundational Knowledge: Understand basic IT concepts, networking, and operating systems.
Education and Learning: At least a bachelor's degree in IT, cybersecurity, or related fields.
Skills and Tools: Learn tools like Wireshark, Nmap, and Metasploit.
Certifications: Acquire certifications such as CISSP, CEH, and CompTIA Security+.
Experience: Internships or entry-level jobs will provide hands-on exposure.
Other Prerequisites: Soft skills like problem-solving, communication, and an analytical mindset.
What Do Cybersecurity Salaries Look Like?
Salaries in cybersecurity vary depending on the role, experience, and location. Generally, they are lucrative, with senior roles like CISOs commanding six-figure salaries.
FAQs About Cybersecurity Career Paths
1.Is Cybersecurity a Good Career?
Absolutely. The demand for cybersecurity professionals is on the rise due to increasing cyber threats.
2. How Do I Plan for a Career in Cybersecurity?
Begin with foundational IT skills, pursue relevant education, gain experience, and stay updated with the latest in cybersecurity.
3. What Skills Do You Need for a Career in Cybersecurity?
Technical skills, understanding of cyber threats, proficiency with cybersecurity tools, and strong problem-solving abilities.
4. What Degree Is Best for a Career in Cybersecurity?
Degrees in cybersecurity, IT, computer science, or related fields are ideal.
5. How Do I Get Started in Cybersecurity Without Any Experience?
Consider internships, online courses, and obtaining certifications. Networking and joining cybersecurity forums or groups can also provide insights and opportunities.
In conclusion, a career in cybersecurity is not only rewarding but also crucial in today's digital age. With the right skills and dedication, there's a promising path ahead for aspiring cybersecurity professionals.
Read More Blogs
CAREER IN ETHICAL HACKING IN INDIA: UNVEILING PATHWAYS TO CYBERSECURITY EXCELLENCE
CYBER SECURITY EDUCATION: SAFEGUARDING THE DIGITAL REALM
UNLOCK THE POWER OF CYBER AWARENESS TRAINING IN DELHI
THE ULTIMATE GUIDE TO THE ONLINE SAFETY TRAINING COURSE
LEARN THE DIFFERENCE BETWEEN HACKING AND ETHICAL HACKING: CYBERSECURITY